Recommendations for FKC Products
FKC Products are designed to serve the healthy or sub-healthy population. People with a family history of various diseases, people who live or work in a contaminated environment, or people who are currently under therapy or recovery from diseases should consider taking food supplements.
How to take FKC products properly
FKC products are not medication but rather food supplements. They are designed to improve the immune system, promote general health, and assist in the recovery from diseases.
Different from conventional medicines, food supplements work by providing cells and tissues with vital nutrients and facilitating and stimulating the body for "self-repair". The effect of food supplements roots in the natural recovery of body itself.
Recommended Usage
Follow the "How To Take FKC Natural Food Supplements" guide below or click any of the following links for specific requirements.
How To Take FKC Food Supplements?
Step 1. Check your health condition against the "Target Customers" column.
IMPORTANT! If you are unsure of your current condition, please consult with your doctor.
Step 2. Purchase the FKC package that's right for you by choosing from the list under the "Purchase Guide" column. You will receive something similar to the sample product package section below.
Step 3. Take the food supplements according to the "Taking Methods"
Sample FKC Package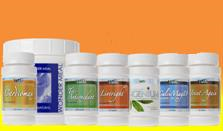 Essential Package (1025B)
Contains: JointAgain(1) Tri-Antioxidant(1) WonderMeal(1) Liveright(1) CalciMagD(1) Cardiomax(1) Ingenium(1)
Target Customers
Taking Methods
Product Guide
25 - 35 years old

Tri-Antioxidant: 1 tablet/day
Ingenium: 2 tablets/day
CalciMagD: 2 tablets/day (for females)
Liveright: 1 tablet/day (for males)

#1006
#1036
For male age 35 - 55

Tri-Antioxidant: 1 tablet, 1 time/day
Liveright: 1 tablet1 time/day
Ingenium: 2 tablets/day
Cardiomax: 1 tablet, 1-2 times/day
JointAgain: 1 tablet, 1 time/day

#1025B
#1036
#1032
For female age 35 - 45

Tri-Antioxidant: 1 tablet, 1-2 times/day,
Liveright: 1 tablet, 1-2 times/day,
CalciMagD: 2 tablets/day,
Ingenium: 2 tablets/day,
JointAgain: 1 tablet, 1 time/day

#1002
#1036
Females, ages 45+ & Males, ages 55+

Tri-Antioxidant: 1 tablet, 1-2 times/day
Liveright: 1 tablet, 2 times/day
CalciMagD: 2-3 tablets/day (for females)
WonderMeal: 1 spoon/day
JointAgain: 1 tablet, 1-2 times/day
Cardiomax: 1 tablet, 2 times/day
Ingenium: 2 tablets/day

#1001B
#1025B
Smoking (including second hand smoking), Drinking

Tri-Antioxidant: 1 tablet, 2 times/day
Ingenium: 2 tablets/day
Morning Power: 2 tablets/day in the morning on an empty stomach
Liveright: 1 tablet, 2-3 times/day
Cardiomax: 1 tablet, 2 times/day

#1036
#1024
#1025B
High Stress

Morning Power: 2 tablets/day
Ingenium: 2 tablets/day
Tri-Antioxidant: 1-2 tablets/day
Liveright: 2 tablets/day

#1036
Family History of Tumors

Tri-Antioxidant: 1 tablet, 2 times/day
Liveright: 1 tablet, 2 times/day
Ingenium: 2 tablets/day

#1036
#1025B
Family History of Coronary Heart Disease

Tri-Antioxidant: 1 tablet, 2 times/day
Cardiomax: 1 tablet, 2 times/day
Ingenium: 2 tablets/day

#1024
#1025B
Regular Exposure to Chemicals

Tri-Antioxidant: 1 tablet, 2 times/day
Ingenium: 2 tablets/day:2tablet/day
Liveright: 1 tablet, 2-3 times/day

#1036
Regular Exposure toHeavy Metals

Each of Tri-Antioxidant and Liveright: 1 tablet, 2-3 times/day
Ingenium: 2 tablets/day

#1036